For a momentous meal
Smithfield Inn
HISTORIC RESTAURANT & TAVERN – BED & BREAKFAST
11 a.m. Tues-Sat
5 p.m. Tues-Sat
11 a.m. Tues-Sat
– Closed for Dining Sunday & Monday –
 From the Smithfield Inn menus, you know you will never want for luxury and variety in food selections and ambiance here, where visitors can enjoy casual and fine dining, inside and out. The William Rand Tavern now offers separate areas for casual and fine dining, or you may casually dine outside in the covered garden dining area or enjoy more formal service in the Inn dining room.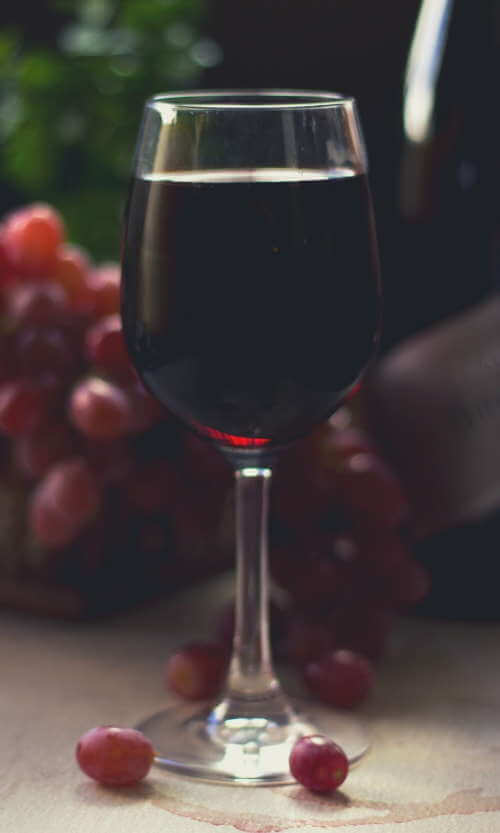 You are invited
to join the
Membership is only $50 per person annually!
INCLUDES:
Priority seating for wine dinners (minimum of 4 per year) while enjoying a $10 discount per member.
Order wines showcased at the wine dinners at wholesale prices plus 25%.
10% discount on bottled wines, while dining throughout the year.
No corkage fees! Enjoy a personal bottle while dining, for the duration of your membership and your stays with us.
Special dining discounts for parties of 20 or more.
Special selections on a private wine list (limited availability).
Private tastings for members and a few guests for a nominal fee.

Discounts on Rooms the night of the Wine Dinners. 
Limited Availability for Membership
Casual and Fine-Dining Choices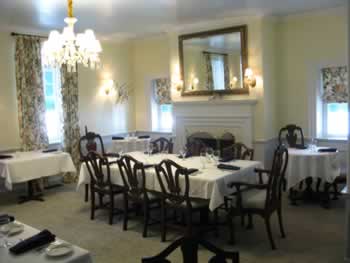 The Inn Dining Room
Enjoy dining in a bright formal dining room, where fresh flowers compliment each beautiful setting, and food and ambiance meld into a spectacular dining experience.
The Inn Dining Room is open at 11 a.m. Tuesday through Saturday. We are closed on Sunday and Monday.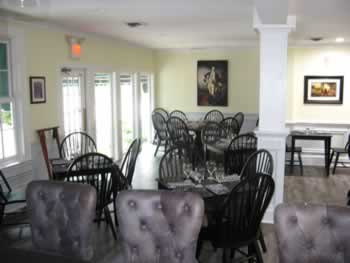 The William Rand Tavern
The Tavern is the perfect place for lunch or cocktails and dinner after work. Tavern fare includes appetizers, sandwiches and entrees, including specials that change daily, and our well stocked bar offers a full complement of foreign, domestic and micro beers.
The Tavern is open at 11 a.m. Tuesday through Saturday. We are closed on Sunday and Monday.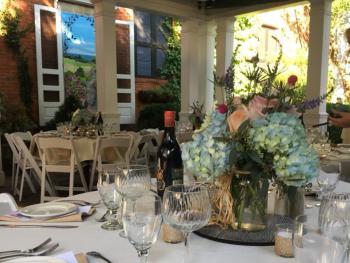 The Garden
Sometimes it's just too nice to eat inside. When you're craving the beauty of the outdoors, come enjoy delicious meals and exciting handcrafted drinks in the shade of our southern-style portico.
The Garden is open as weather permits at 11 a.m. Tuesday through Saturday. We are closed on Sunday and Monday.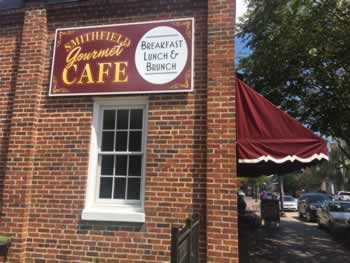 Smithfield Gourmet Bakery & Café
Just steps from our door, overnight guests enjoy a free southern-style breakfast at our sister property, The Smithfield Gourmet Bakery & Café, where you can choose between dozens of scrumptious meals and pastries.
The Smithfield Gourmet Bakery and Café is open from 8-5, Monday through Friday, 7-5 on Saturdays.
Handcrafted & Natural
Cocktails Crafted Daily
Housemade syrups and accents fresh from our kitchen and gardens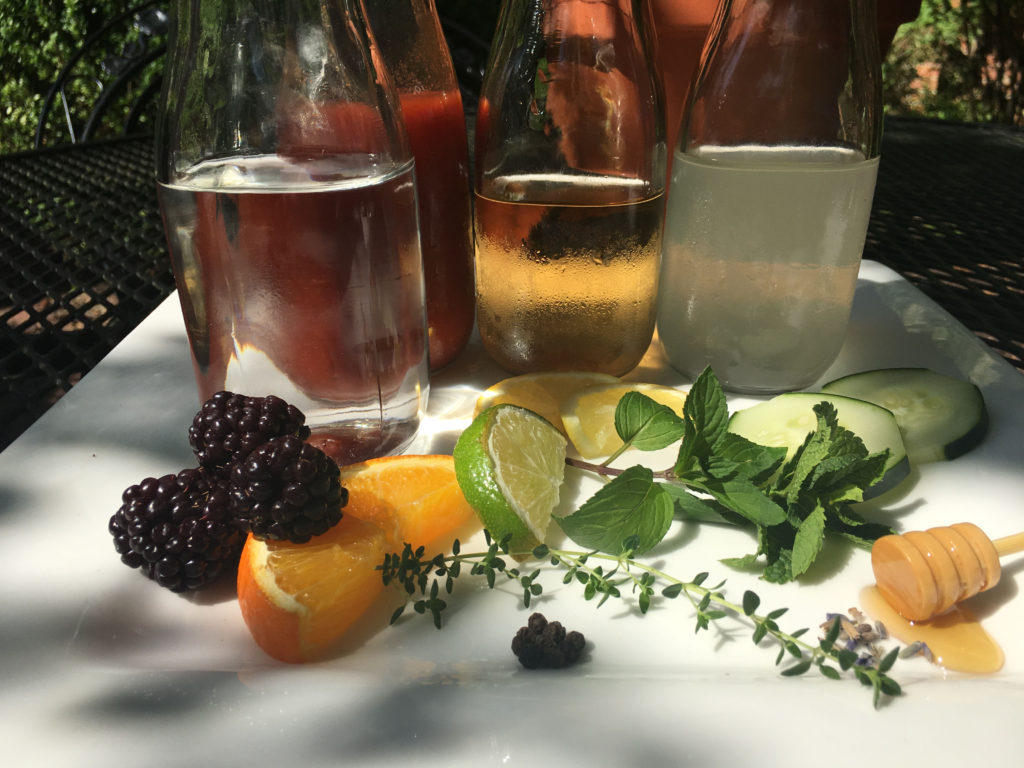 Events
We Do Retirements
Whether you choose the Inn Diningroom,  the William Rand Tavern, or the Garden, your guests will remember your event for a lifetime!
From 1752 through the present, The Smithfield Inn is the historic home of Southern hospitality in downtown Smithfield.
Visit
112 North Main St.  Smithfield, VA 23430
Monday & Tuesday CLOSED
Wed. – Sat. 11 a.m. – 8 p.m.
Sunday Brunch 11:00 a.m. -2:30 p.m.
BED & BREAKFAST
OPEN EVERY DAY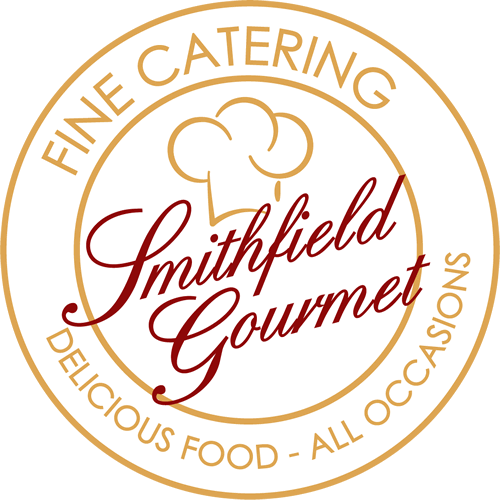 NEW! Work with us on your next event! Delicious food for all occasions. Lovely venues. Our place or yours.
Email about EVENTS or CATERING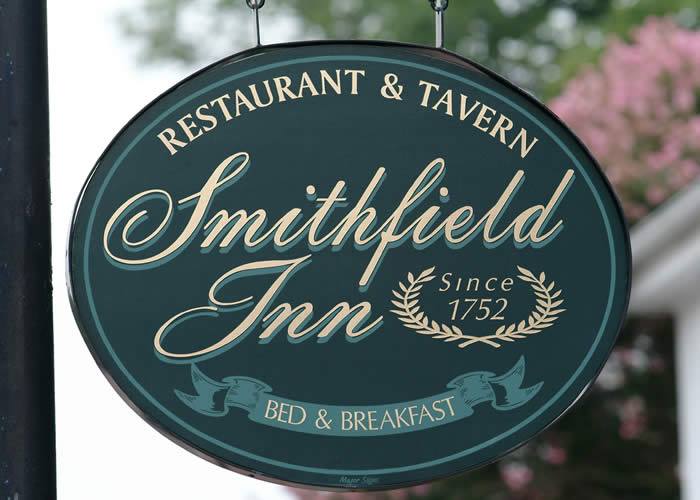 The Smithfield Inn Restaurant and Tavern, Bed & Breakfast has been making travelers happy with food, drink, and accommodations since 1752.
Email about OTHER
So, you don't want to email about events or catering or reservations. Here's where to email management about anything else.